Updated 2023 {With Downloadable Plan Sheet!}
A Step-by-Step Guide for
Insurance Brokers

on Building an Effective

Sales Funnel!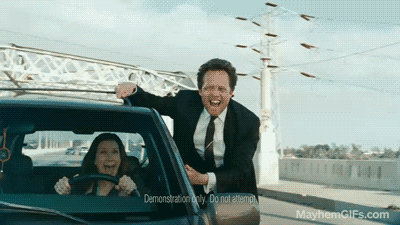 Help people find the insurance they need with segmented sales-funnels
A "sales funnel" will help you guide potential customers through the process of buying insurance. It's like a step-by-step plan to make it easy for people to understand what they're getting and make a decision.
First, there's the "awareness" stage where the customer finds out about the broker and their services, usually through advertising or networking. Then, in the "interest" stage, the customer shows interest in the broker's services by visiting the website or asking for more information.
After that, the "evaluation" stage is where the customer compares the broker's services to others, and asks for quotes or checks coverage options. Once they're ready, they move to the "purchase" stage where they buy the insurance.
After that, the broker's job is to "retain" the customer by providing ongoing support and building a good relationship. And lastly, the broker encourages the customer to "refer" friends and family for more business.
Segment your target audience by insurance types
you know how when you're looking for something online and you keep seeing ads for something completely unrelated? It's annoying, right? Well, that's the same thing that happens when insurance brokers don't communicate with their prospects in a way that's relevant to them.
As an insurance broker, your sales will increase when you will help prospects go through the stages of a proper sales-funnel which are awareness, evaluation, purchase and retention. The key to making this happen is by communicating with your prospects in a way that's highly relevant to them. Otherwise, they're just not going to be interested in what you have to say.
Since most of this communication will happen online, it's important to create different communication paths for different audiences. This process is called SEGMENTATION, and it's all about making sure the right message gets to the right person at the right time. Trust me, your prospects will appreciate it and you'll have a better chance of converting them into customers.
How do you map-out your segments and your funnels?
Here is how we do it:
The image below is a screenshot of a Google Spreadsheet that we use to map out the entire sales funnel system for our insurance broker clients. The map helps outline each segment by defining the target audience, associated keywords, the content needed to make the first impression (we even created a full article as an example), the lead magnet (in this case, an eBook, and we even added eBook title ideas), the call to action, examples of Google Search ad copy, welcome email copy, and further engagement suggestions.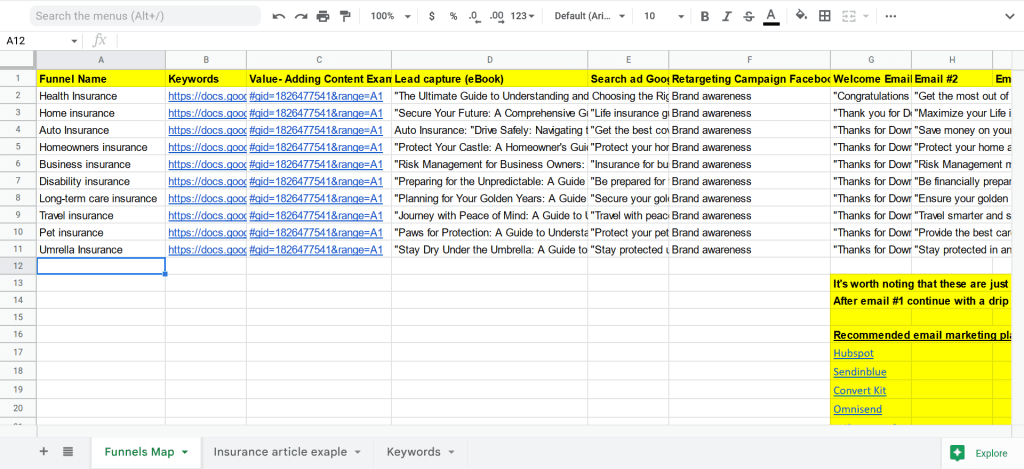 Here's a closer look at how the map is built

And here's a suggestion for an article we've made for you. The article will be used as a valuable-information, to build yourself as a voice of authority. Then, you will embed a lead capture to continue the funnel until CTA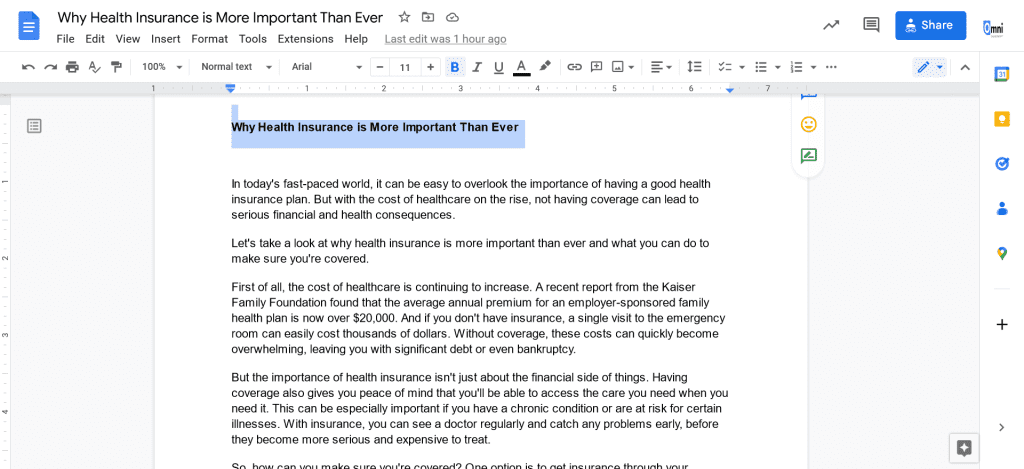 How do insurance agents get leads?
Insurance agents can get leads through various means, such as:
Referrals from existing customers:

Encourage current customers to refer friends and family to your services.
Cold calling:

Reach out to potential customers who have shown interest in insurance services.
Networking:

Attend events and conferences to meet potential customers and other industry professionals.
Online marketing:

Use social media, email marketing, and search engine optimization to reach potential customers online.
Direct mail:

Send marketing materials to a targeted list of potential customers.
Once you have leads, you as an insurance agent can use a sales funnel to guide potential customers through the process of purchasing insurance.
Segmented landing pages are important in an insurance sales funnel because they allow you to personalize the customer experience and tailor the information presented to the specific needs and interests of the target audience. By creating different landing pages for different segments of the market, you can ensure that the customer is presented with the most relevant information, which can increase the likelihood of converting them into a lead or sale. Additionally, segmented landing pages can improve your search engine optimization (SEO) efforts by providing more targeted, relevant content to search engines, which can increase the visibility of your website and ultimately drive more traffic to your landing pages.
Your landing page provides more information
Information about the insurance and about your company
100%
Your landing page will have a Contact Form and a Chat
So you don't miss any communication opportunities
100%
Your landing page will be Equipped with Tracking Codes and Pixels
So even if your visitors only viewed the page and haven't made an action, this will still happen:
100%
Integrate Your Landing Page with Re-Targeting Ads
Even if The Lead's Source is Facebook or Taboola,
Google Ads Will Re-Target
Retargeting ads are important in an insurance sales funnel because they allow you to reach out to potential customers who have already shown an interest in your products or services. Retargeting ads are typically displayed to users who have previously visited your website, but have not yet converted into a lead or sale. These ads can help to keep your brand top-of-mind and remind potential customers about your products and services. Additionally, retargeting ads can be used to display different messaging or offers to different segments of the market, which can help to increase the effectiveness of your campaigns. Furthermore, it can increase the chances of conversion as the customer has already shown interest in the product or service and retargeting ads can be a gentle reminder for them to come back and complete the purchase.
As an insurance agent, your operation is primarily virtual, including your lead generation and most of your marketing efforts. To achieve success in your business, professional email automation is essential. By implementing well-planned and well-structured email automation strategies, you can boost sales, generate new leads, convert leads into clients, and enhance client retention. Email automation also allows you to segment your audience by insurance type, behavior, or other characteristics, track and optimize user experience, and much more.
Omni Online Strategies is a highly experienced marketing agency that specializes in providing automation strategies and management. We possess extensive knowledge and experience in all email marketing platforms such as:
When synced with retargeting ads, email marketing automation can be incredibly effective.
Example of emails
that we do
Read more about
Sales-Funnels

or

Other Topics
In addition
Reach Your Leads Faster
with ChatBot
ChatBot on your page to allow faster and better communication!
Get a notification everytime a potential customer lands on your page, and see their behavior!
We would love to help your insurance business's marketing! Our chat is one click away!
Insurance agent?
Let us help you!