Sendinblue Automation Tutorial
"Email automation" is a planned journey, designed to help your business manage and communicate with your prospects or leads. An email automation, a drip, or a sequence of emails, consists of a series of emails and events. Emails are a big part of any funnel. A "trigger" inside an automation can be set to cause an action like sending a welcome email, fire a monthly sequence of emails, apply a certain tag to a contact, opt-in, opt-out, or segment a contact to a list.
One of the leading email automation platforms out there is Sendinblue, and this article is a beginners' tutorial to Sendinblue automation.
Before creating your email marketing automation, you must first identify:
What is your goal for this automation?

Who are you targeting?

List down the information that you need to segment. Segmentation of contacts is key to any successful  marketing activity. Segmentation helps you make sure that your communication with each prospect is relevant. Automation can help you segment your prospects based on thing like their location, product interests, behavior, age and so on.

"Marketing Automation refers to the use of software to
automate repetitive tasks
related to marketing activities. The tasks are automated in response to pre-defined
trigger
conditions, which usually correspond to actions that your users take on your site or in your emails. 
The tasks that can be automated include, but are not limited to:
the sending of emails and SMS,
the segmentation of contacts into different lists,
the update of information in your contact database,
the creation of CRM tasks,
the recording of a conversion following a purchase, etc."
Creating a SendInBlue Automation
1.) Create an Email Template
Under automations, click on

"Templates"
Fill out all the Setup fields in order to use them in your automation and then click on

"Next Step"

 
Create a template / edit a new template
After editing your template, click

"Save & Activate"

– You would need to activate a template in order to use it in an automation.
Beginner's Guide to making a SendinBlue Email Template:
You can choose a template design from SendinBlue's template gallery. They have tons of pre-designed templates that will help you get started on your email campaign.
2. Once you choose a template, you can customize it by clicking on the different elements. You can move the elements around by dragging and dropping to your preferred position.
3. Add links to photos and insert buttons to better lead your audience to the destination you want them to go.
4. You can also use the classic Drag & Drop Editor for a simpler and user friendly editor
5. Always send a test template before sending out campaigns or using it in an automation so that you will see how your template will exactly appear in your receiver's inbox.
2.) Go to "Automation" Tab
Click on

"Create a Workflow"
Select your preferred workflow template or select

"Create a custom workflow"

on the upper right
For this instance, we're going to create a custom workflow. 
Name your workflow then add a description and click on

"Start automating"
Now, it will allow you to add an entry point which is the trigger that will allow your contacts to enter this automation. Note: you can add multiple entry points in an automation.
When you click on the + you will be provided with 4 options:
Email Activity –  You can start the workflow
 when your contacts have opened one or all of your campaigns, 

when they clicked on a link or a specific link in your emails, or 

when they unsubscribed.
Contact Details – You can start the workflow 
when it's a contact's anniversary, 

when a certain attribute or tag is added to the contact

When a contact is added to a list

When a certain condition matches the contact
A contact submits a form – you can start the workflow when a contact submits or successfully fills out one of your SIB forms.
Website Activity – You can start the workflow
When a contact visits a page – this may be your products page, about us page or any of your landing pages

When a contact clicks an external link 

When an event happens – like a checkout
After selecting your entry point, you may now select your next action.

Click on the "+" and select your next preferred action:
Or condition as shown below: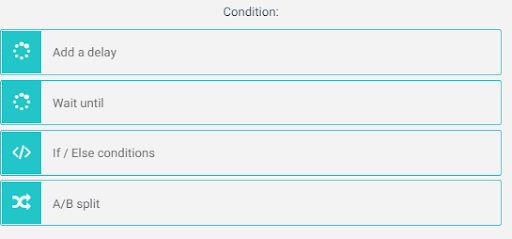 Continue adding actions or conditions until you achieve the end of your automation.
Now, make sure that your automation is active:
And that's it! SendinBlue is one of the most user-friendly email marketing platforms, it has tools that will allow you to launch a good email marketing campaign. Its automation is not as advanced as other email marketing platforms like ActiveCampaign, but it does give you tons of options to customize your automation.
Need help with marketing? Let us help you!
Our Chat is One Click Away!
Let Us Handle
Your Automation For You!