5 Best Activecampaign Alternatives for 2023
Do you feel like it is time for you to move from Activecampaign to another email marketing platform? Whether you try to stay within your budget without compromising on advanced email automation, whether you are looking for an email platform that is built to increase online sales for eCommerce stores. Maybe you want to find better CRM integration or perhaps your business needs a strong B2B cold email tool that, made for deliverability. 
Whatever your goal is, you're in the right place because this post is all about the best alternatives to Activecampaign!
As a digital marketing agency, we live and breath email marketing. There are a lot of email software out there but at the end, our team has decided to select & examine for you the best 5 email marketing platforms on basis of features, pricing and customer service. We hope that this post will help you make the right decision and that your next email marketing platform will help you to take your business to the next level!
Omnisend is an email marketing platform that is designed to increase sales, not your workload. If you own an online store and your business is eCommerce, Omnisend is definitely a tool you want to check out.
Use Omnisend's user-friendly platform for e-commerce email marketing, SMS, and automation to accelerate revenue growth.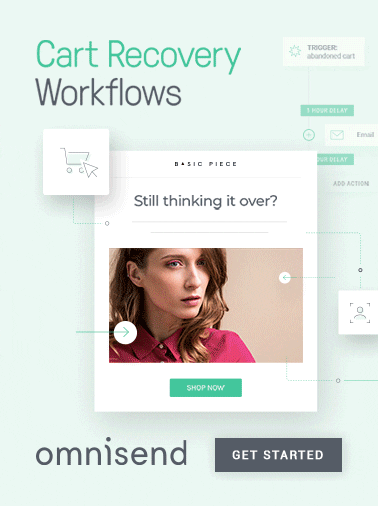 Email marketing and automation are superb. With the help of a single, e-commerce-specific automation platform, increase sales across many channels automatically. A simple setup and you can start working immediately!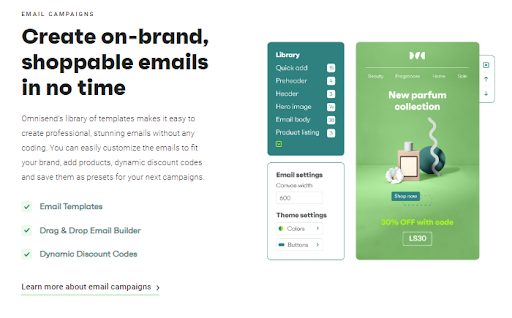 Take advantage of pre-built email templates and forms, or start from scratch with the easy-to-use drag-and-drop feature. With simple email marketing, automation, and a variety of available channels, Omnisend eliminates the tedious process of engaging, converting, and reactivating your e-commerce consumers.
Omnisend has everything an e-commerce marketer needs for an easy start, making it simple to get started with lots of flexibility to expand, whether you're just starting to construct your business or want to level up already.
Improve your email marketing for online stores with Klaviyo.
Utilize real-time segmentation, pre-built automation, and configurable campaign templates to move quickly. Over 100,000 international brands rely on Klaviyo to boost and maintain email income.
In the past our team at Omni has conducted a comprehensive and detailed comparison between Klaviyo and Mailchimp and undoubtedly concluded that Klaviyo is superior to Mailchimp. Is Klaviyo also better than Activecampaign? This is yours to answer. Try using Klaviyo in various ways to level up your business. Built for eCommerce and online stores, Klaviyo has great features you can use to increase your online sales and build more segmented email marketing activities:
Send personalized emails that convert

Drive repeat sales with behavior-based automation

Hardworking email features built for eCommerce

High-converting eCommerce automation
Utilize behavior-based automation to increase repeat business.
With Klaviyo, when you customize automations based on channel interaction, profile and event data, predictive analytics, and platform connections, you can create long-lasting client relationships. With the pre-built behavior-triggered automations offered by Klaviyo, you can foster retention and raise lifetime value (LTV)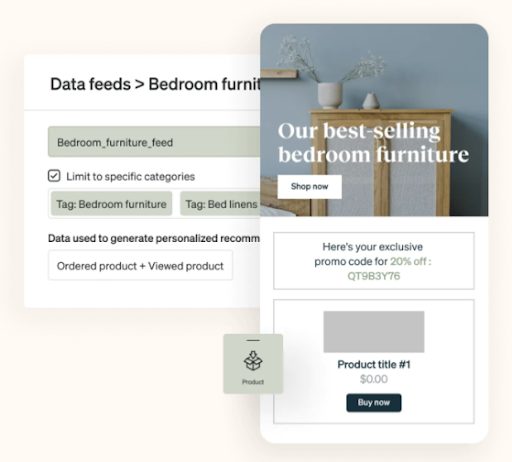 Start growing your online store and integrate it with Klaviyo. Utilize your e-commerce platform to generate more revenue.
Send highly tailored email and SMS that increase sales by integrating Klaviyo with your e-commerce platform, ecosystem, and historical data.
You have everything you need to expand your business in a strong platform such as Klaviyo. Automatically sent personalized emails and messages based on how clients engage with your business and create personal moments that matter so you can convert easily. 
There are features that can be used which vary on the prices. You can start off with a free plan and upgrade afterwards.
Get ready for your business to takeoff and strive.
One of the best and most user-friendly platforms for expanding enterprises is Sendinblue. This alternative to Activecampaign will equip your company with the appropriate marketing & sales tools, thrive online.
Activecampaign best alternatives? Sendinblue is often titled as the forefront of digital marketing. Ranked as the top Marketing Automation tool for SMBs and recognized as one of the top 100 software businesses of 2021. Go ahead and develop your company with Sendinblue!
Start communicating effectively with your leads. Ulitize Sendinblue drag and drop feature and maximize its features. You can use professionally designed emails as you build your business and promote your name.
It's a no brainer that you can do more, affect your business positively, and covert leads by doing less effort with the automation feature. 
Begin to automate your marketing and sales processes in no time. By creating an automation workflow, or a series of rules and conditions that cause the activities you want to automate, you may use marketing automation software to streamline some of the processes in your workflow. Sending emails and SMS messages, creating lists of contacts, and updating data in your contact database are some of these actions.
Pick the best Sendinblue pricing that will suit your needs. Each category includes a distinct feature you can use for your plan tier. You may also customize your pricing, a great thing here is that they do not force to upsell your plan, you only pay what you you need, when you need it.
Create websites, landing pages, signup forms, automations, and email campaigns your audience will engage and convert to sales. Expand your business through email With MailerLite's sophisticated email marketing features, you can build subscriber lists, improve client interactions, automate workflows, and monetize your audience.
Mailerlite is the digital marketing solutions that help expand your audience more quickly and increase sales more effectively. Get 24/7 award-winning support at the same time.
If you are looking for the best alternatives to Activecampaign, don't pass on Mailerlite. This email marketing platform allows you to take advantage of all email marketing capabilities without cost for 30 days to determine which package is right for you. Advanced features, such as improved automations, a paid email subscription, a website builder, and more, will be available to you as well.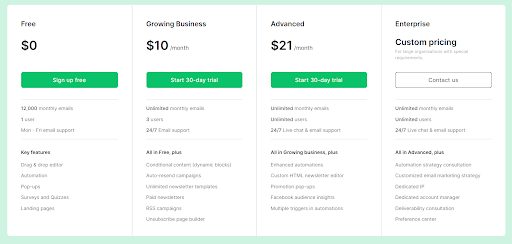 ConvertKit is one of the greatest email marketing hubs you can use to:
– Expand your audience and your email lists

– Boost your subscriber count with attractive landing pages, sign-up forms, and link pages that highlight your work.
– Automate your marketing activities
With the help of ConvertKit's Nimble email editor and effective sales funnels, you can establish enduring relationships and market like a pro.
– If you are looking for the best alternatives to Activecampaign to market your digital goods, utilize ConvertKit to market and sell your digital goods and subscription services for improved conversion rates and significant fee savings.
Build your audience and grow reach. Iterations and experimentation are the foundation of growth. ConvertKit  streamlines and adapts that procedure for you so you can quickly create the pages you require to share all of your essential content and win over new audiences.
Own that connection by using stunning landing page and opt-in templates to convert your YouTube, social media, and other audience members to your email list.
To engage with your audience as a creator, you are at the mercy of social media algorithms. You may handle up to 1,000 subscribers using ConvertKit's email marketing Free Plan, which will allow you to email your fans directly. You can start for free and upgrade later on.